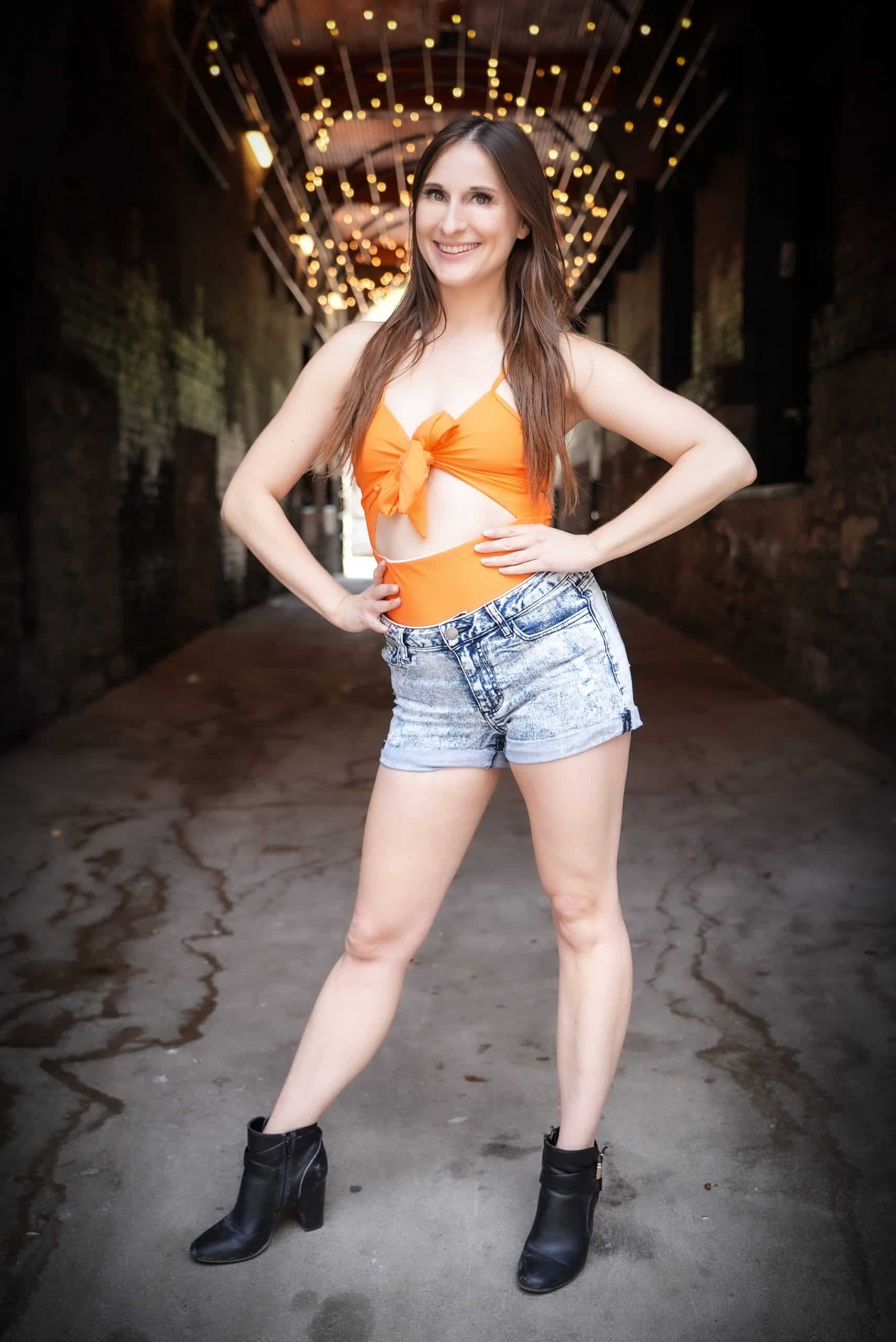 M. Funk Dance Productions
Owner
/
Director
Meagan Funk started dancing when she was 4 years old. She took lessons in jazz, ballet, hip-hop and lyrical/contemporary styles in Winnipeg, MB, before eventually moving on to dance college in Toronto, ON at George Brown College. After completing college with her commercial dance certificate, Meagan landed her first professional dance role on Carnival Cruise Lines, stationed out of Texas, where she would perform nightly for sold out audiences.
Before starting M. Funk Dance Productions, Meagan worked as a professional dancer throughout Toronto: in various small dance companies, where she performed at weddings, corporate events, galas, and fundraisers; and at the Greg Frewin Theatre in Niagara Falls as a dancer/magician's assistant. In the latter role, Meagan performed nightly in an extravagant show featuring live animals such as lions, tigers, and exotic birds and grand levitation and sawing illusions. With the magic show, she seized the opportunity to perform as the headliner at the World Magic Conference in Blackpool, England.
Meagan moved back to Winnipeg in 2014 with the plan of starting her own dance business. She began teaching women upbeat Burlesque Fusion dance classes that aimed to inspire confidence and positivity, and with that, Prairie Diva was born. Soon after she started a professional dance company of local dancers that could be hired for performances at special events in Winnipeg and surrounding areas. Both companies have grown tremendously over the years. M. Funk Dance Productions currently has 11 professional dancers on their roster. Prairie Diva has expanded to multiple classes and different levels, with showcases out of both the Park Theatre and Basement Speakeasy in Winnipeg!
M. Funk Dance Productions Company Member & Prairie Diva Teacher
Amanda started dancing at the age of 4 years old. She took lessons in ballet/pointe, tap, jazz, lyrical/contemporary, ballroom and hip-hop in Winnipeg, MB. She was in ballet productions of Swan Lake and Nutcracker in her late middle school and early high school years. She also danced and trained competitively for a number of years until she was forced to quit dancing at the age of 17 due to a back injury.
Six years later, Amanda went back to the studio to start training again. She gained some more experience on stage, behind the camera in concept videos and in music videos. Discouraged at first coming back to dance, nine months later she auditioned and signed her first professional dancing contract with M. Funk Dance Productions. She has been with the company since September 2018 and continues to strengthen her skills in the studio despite her scoliosis.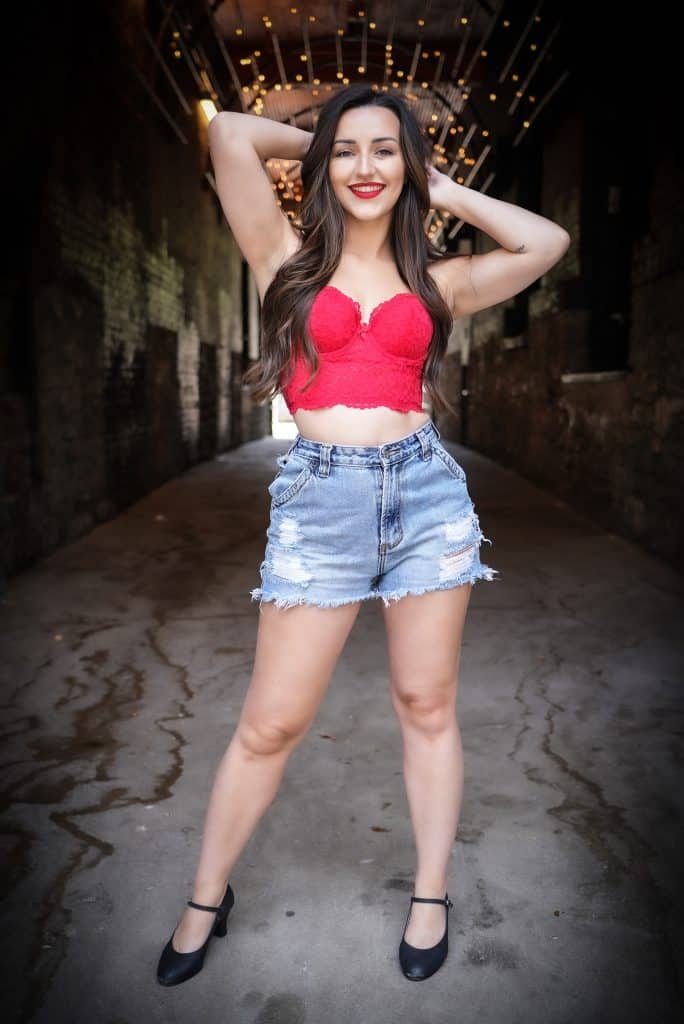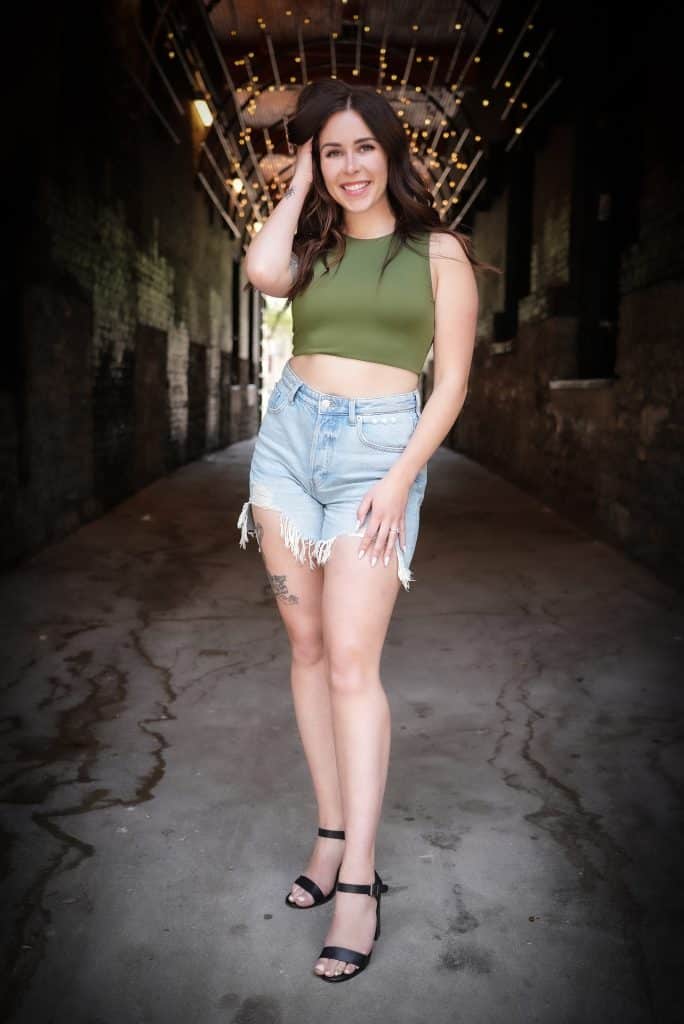 M. Funk Dance Productions Company Member
Averie's dance journey began with learning the style of tap during her younger years with a small program in Riverton, called RiverTap.  Growing up in a small community didn't offer a lot of dance opportunities, so it wasn't until she was 16 and able to drive herself out of town for dance classes where she really started to find her love of dance.
She began with ballet through the RWB Satellite program, then quickly became obsessed with wanting to grow and learn more styles of dance. Averie joined the competitive program at Evolution Dance Company, competing in jazz, tap, ballet, lyrical, and hip hop for 4 years. After moving on from competing, Averie joined M. Funk Dance Productions in the fall of 2018. 
Currently, Averie is still doing dance training at Drop in Dance, performing in gigs with M. Funk, and is running a dance program in her hometown.
M. Funk Dance Productions Company Member & Prairie Diva Teacher
Lavender is a triple threat performer who has specialized in commercial jazz and burlesque. Her rigorous pre-professional ballet training has given her a leg up (literally!) in all other genres she has pursued training in, which include contemporary, tap, hip-hop, salsa, commercial heels, and pole dance. Lavender enjoys creating her own burlesque and dance works, using her strong musicalty, athleticism, and her sometimes goofy, sometimes seductive attitude. Lavender found her first professional dance contract in Toronto performing samba, jazz and showgirl repertoire, where she grew in her love of entertaining, and since joining Mfunk Dance Productions, she has worked in numerous live shows, private events, and music videos, all across Manitoba. She became an instructor with Prairie Diva in 2021, and teaches burlesque fusion dance classes and gives private lessons for dance or burlesque choreography and coaching. Lavender aims to always be a student of her art form and is constantly levelling up to continue wowing audiences in creative and alluring ways.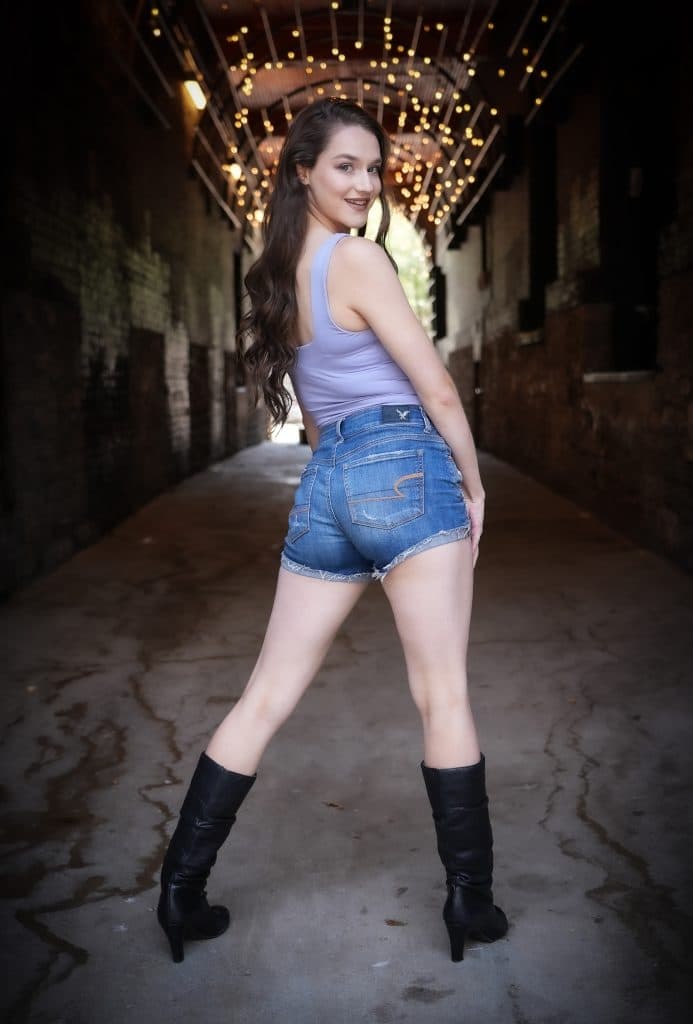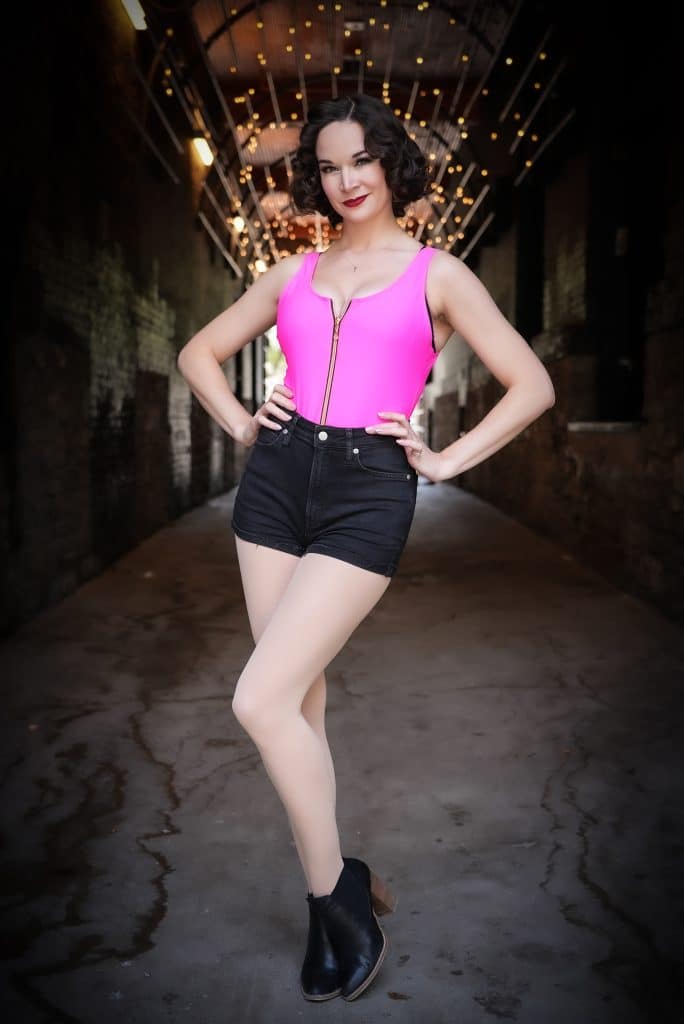 M. Funk Dance Productions Company Member
Victoria has been a dancer since the age of four, practicing and performing styles including ballet, jazz, heels, salsa, bachata and burlesque! She has been an M. Funk Dance Productions company member and professional dancer since 2014. She choreographed and performed her first burlesque solo under her stage persona "Rosé" in 2017. She has been bringing her beautiful and creative concepts to the stage ever since. She is known in the burlesque community for her classic vintage elegance and sparkling hand-crafted costumes.
It's no secret that Victoria is crafty and creative. She designs and creates all of her own costumes as well as frequently repairs and pins the costumes of her fellow company members backstage! Victoria is a self-taught seamstress and talented burlesque costumer. She shares her passion for sewing and costuming with Prairie Diva students in her "Become a Showgirl" and Costume-Making classes. She teaches Prairie Diva students how to make their own well-made and elaborate costumes with simple techniques and accessible materials. Giving them confidence to design and create their own burlesque costumes well after the class costume is complete.
M. Funk Dance Productions Company Member
Annika's dance pursuit began at the age of 6, where she enrolled at a humble dance studio, Institute of Dance of Manitoba. Her training started off with ballet, and as her passion for the art grew, so did her yearning to expand her knowledge into various other styles; lyrical, modern, contemporary, hip-hop, jazz, musical theater, flamenco, latin/ballroom and acrobatics, just to name a few. 
During her time competing for her studio, Annika won many awards and attended multiple workshops/conventions, learning from some of the most talented and well known dancers/choreographers in the business. Some of her awards include: Junior Modern Scholarship 2015, Paris/Barcelona Dance Tour Scholarship 2018 & Duo/Trio of the Year Award 2019. 
Annika also kicked-off her choreography skills by developing pieces that were used in these competitions, and successfully placed in the overall top 3 with all of her routines!
Through it all, Annika has experienced the hardships of having injuries, and what it takes to come back from them. She took a step back from dance for 4 years, however she started her training back up in 2023. Her time away from dance was a healing and profound time, that ultimately led her back to her first love, dance.  
Annika's mental fortitude has helped her so much over the years. Now she is as confident as ever, and overjoyed to be a part of the M. Funk team! 
Dance is not her only goal however, Annika plans on acquiring her diploma in dental hygiene, and plans to pursue her dreams of becoming a circus/rave performer using props/apparatuses.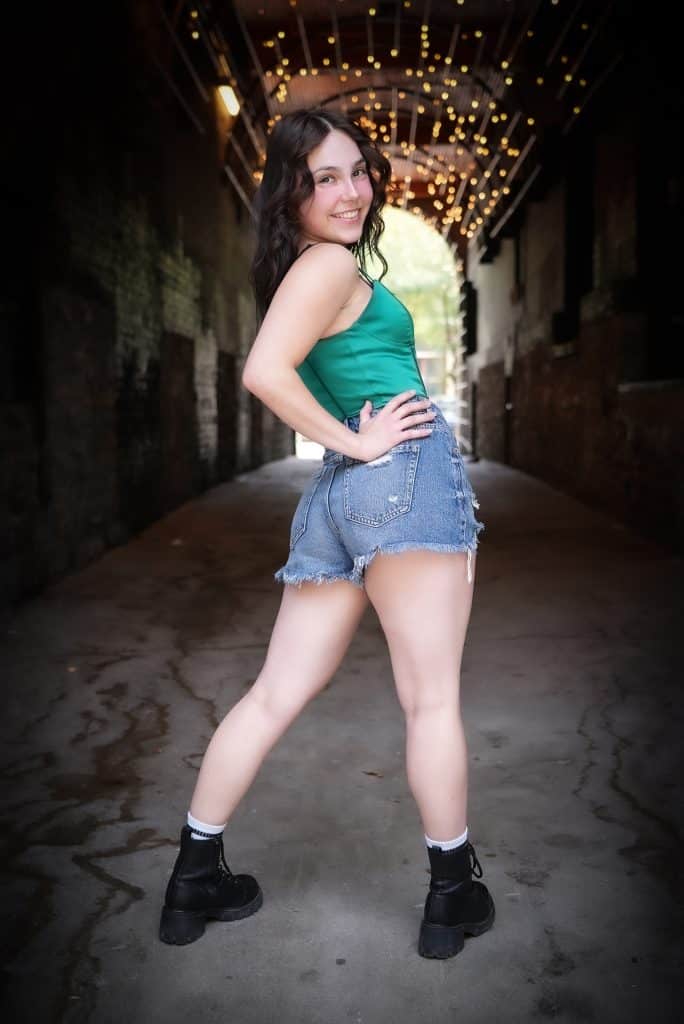 M. Funk Dance Productions Company Member
Maya started dancing at the age of 6, taking Ballet, Jazz, and Tap. As a child she was always spinning and dancing around to music, so her parents knew that she would find her love in dance. And just as expected, Maya fell in love with it, expanding her practice to include lyrical, pointe, contemporary, hip-hop, and modern dance.
She graduated from the Stoney Brook Dance Company in 2019 and after a 4-year break from dance, realized that she couldn't live without it and joined M Funk dance in 2023. She also established her burlesque persona "Meringue", and plans to continue doing what she loves: creating art through movement. 
Alongside dance, Maya also has a passion for mathematics. She is currently working on achieving her bachelor of science at the University of Manitoba, majoring in Statistics and minoring in Philosophy. All in all, what Maya loves most is learning new things, be it mathematical formulas or dance steps.
M. Funk Dance Productions Company Member
Mady has been dancing since she was 3 years old. She trained competitively in many styles right up until 2020. Her favourites have always been tap and musical theatre, and this continues to be true as she currently teaches tap classes and trains in musical theatre. She has been dancing with M. Funk Dance Productions since 2021.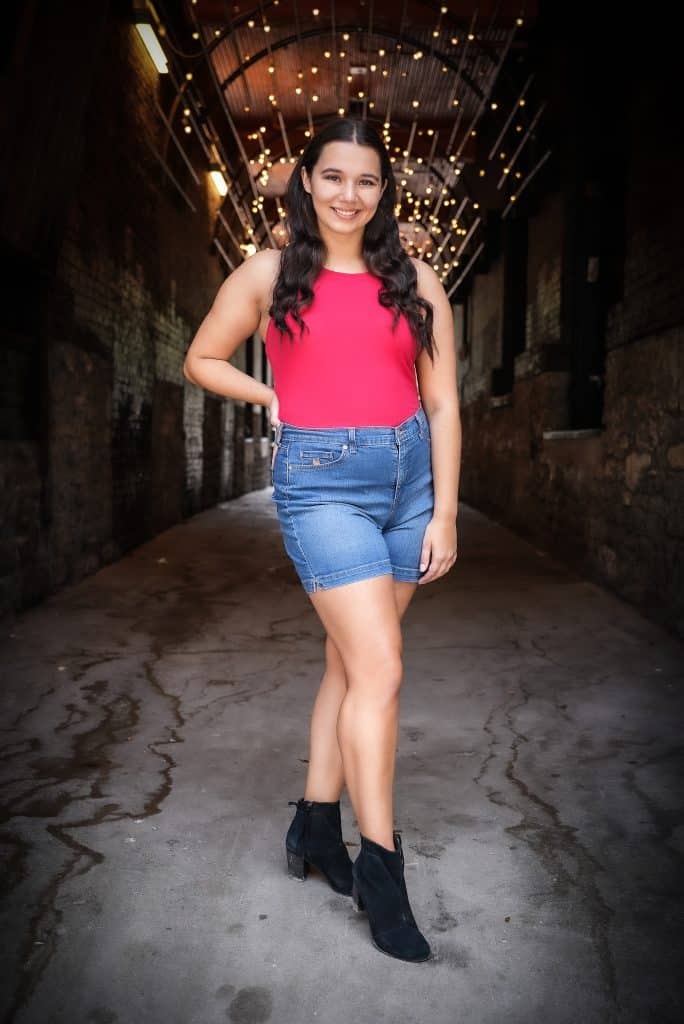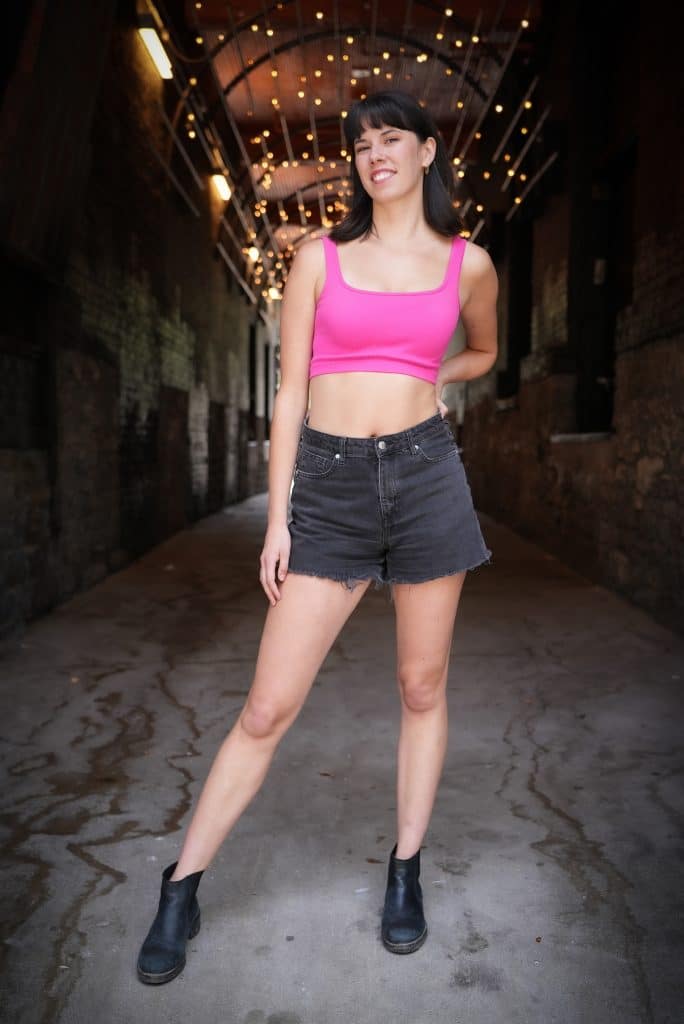 M. Funk Dance Productions Company Member
Hilary James is a dance performer, choreographer, and teacher hailing from Winnipeg, Manitoba. Hilary received her Bachelor in Fine Arts, Major in Dance from the University of Calgary in 2017 where she trained in contemporary, jazz, and composition with local professionals Melanie Kloetzel, Marie-France Forcier, Michèle Moss, Melissa Monteros, Wojtiech Mochniej, and more, as well as many international guest artists. She also spent 2 years studying and performing with the Professional Training Program at the renowned company and studio Decidedly Jazz Danceworks. Most recently, she created and performed a full length dance theatre production "Pull Yourself Together" in the 2019 and 2023 Winnipeg Fringe Festivals. Other performance credits include the Ignite! Festival of Emerging Artists, Alberta Dance Festival, Skylines Dance & Film Festival (2017, 2018, and 2023), Fluid Festival's Physical Therapy Cabaret, Rainbow Trout Music Festival, Nuit Blanche, and several productions with M Funk Dance.
M. Funk Dance Productions Company Member
Since Yuliia was little she had a passion to dance while growing up with me. During her life she tried different dance styles: Hip Hop, Breakdance, Jazz Funk, Vogue, Twerk, and Heels. During her school and university years she took part in different contests which helped her to understand that dancing is the thing that she longed for and what she loves to do.   With over five years of experience in dance, Yuliia specializes in high heels dancing and has been teaching heels classes for the past two years. She joined M. Funk Dance six months ago, bringing her passion for dance and instructional expertise to contribute to the team's vibrant atmosphere.