We would like to introduce to you our special blog post series, "Prairie Diva Spotlights". Prairie Diva spotlights will showcase the amazing women who make up the Prairie Diva Burlesque Fusion dance classes. Every woman has a different story and journey through dance and we want to shine light on these women through this blog.
These women are unique and beautiful and give it their all each and every class with their high energy and positive spirits. Please let us introduce you to these amazing women!
Each of the Prairie Divas took part in a professional photo shoot with Brittany Rae Photography and answered a series of questions about themselves.
Introducing our first spotlight:
Alanna: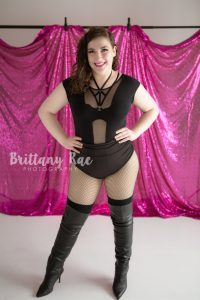 "Dancing lets me get out of my head and just enjoy myself without worrying about anything else that's going on. It's also way more fun than the gym!"
When did you start dancing?
My parents signed me up for ballet class when I was 4 and I haven't gone more than 6 months without taking a dance class since then.
Favourite past times/other hobbies
Baking, reading, and naps.
Fun/interesting fact about me
I know over 100 digits of pi!
Goals and aspirations 
I'm currently completing my residency training at the University of Manitoba and I'm looking forward to finishing that in 2021 and working as an ophthalmologist!
How I first heard about Prairie Diva dance classes
When I moved to Winnipeg in June 2016 I was looking for dance classes and found Prairie Diva through Google and I'm so glad I did!
What I like about burlesque fusion dance classes 
I love dancing with such a supportive, confident group of women who inspire me every week.
Making friends & connections
Some of my first friends in Winnipeg were through Prairie Diva and it's a great way to meet people outside of work.
What I'm most looking forward to with Prairie Diva's classes
Performing is such a fun part of dance and I love being able to dance in the Prairie Diva showcases!