Prairie Diva spotlights showcases the amazing women who make up the Prairie Diva Burlesque Fusion dance classes. Every woman has a different story and journey through dance and we want to shine light on these women through this blog.
These women are unique and beautiful and give it their all each and every class with their high energy and positive spirits. Please let us introduce you to these amazing women!
Each of the Prairie Divas took part in a professional photo shoot with Brittany Rae Photography and answered a series of questions about themselves.
Introducing,
Kaitlyn: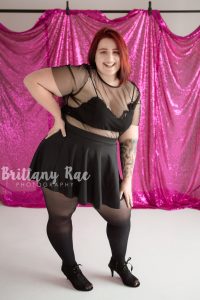 "What I love about dance is the confidence it seems to give everyone who's participating, the celebration of all different ages and body types and just celebrating women in general and the beauty of our bodies."
When did you start dancing?
I first started dancing in March of 2017. My friend Brianna has been a dancer all her life & she encouraged me to try Prairie Diva!
Favourite past times/other hobbies
Hockey, baseball, reading, singing.
What I like about burlesque fusion dance classes 
I like how encouraging and accepting the environment is.
Making friends & connections
I've made tons of friends in the Prairie Diva classes.
What I'm most looking forward to with Prairie Diva's classes
More showcase performances!