Prairie Diva spotlights showcases the amazing women who make up the Prairie Diva Burlesque Fusion dance classes. Every woman has a different story and journey through dance and we want to shine light on these women through this blog.
These women are unique and beautiful and give it their all each and every class with their high energy and positive spirits. Please let us introduce you to these amazing women!
Each of the Prairie Divas took part in a professional photo shoot with Brittany Rae Photography and answered a series of questions about themselves.
Introducing,
Stefanie: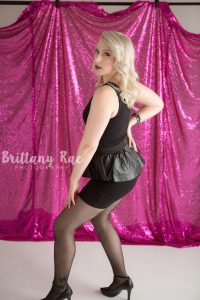 "It feels so amazing to have found a new passion in burlesque. In everyday life I wear many hats, but at dance class, I'm Stefanie, a fierce sexy diva!!
When did you start dancing?
I fell in love with dancing at the age of 8. My jazz dance instructor was also a bomber cheerleader. She inspired me to try all kinds of dance. I became a cheerleader in high school. As an adult I joined burlesque in 2013 and found Prairie Diva in 2017.
Favourite past times/other hobbies
Well dance of course. I also love to paint and create art of any kind. I love to be outdoors, to go camping and bike riding!
Fun/interesting fact about me
I love bugs! Bees especially. I would love to have my own apiary one day!
Goals and aspirations 
Some personal goals of mine are to dance more, and to explore the parts of Canada I haven't seen.
How I first heard about Prairie Diva dance classes
Having done burlesque before, I knew I wanted to get into it again, so honestly, I googled searched burlesque classes in Winnipeg and found Prairie Diva!
What I like about burlesque fusion dance classes 
The fast pace. The first class I took was traditional burlesque, so it was quite slow. Burlesque fusion is a bit more exciting!
What I'm most looking forward to with Prairie Diva's classes
Learning new routines, pushing myself to get better at dancing and performing on stage!!!